I can't believe it's almost Halloween. September zipped right by me and now October is more than halfway done. I spent most of the end of Summer counting down the days until the autumn equinox. I had such grand plans for Fall. I was going to visit a pumpkin patch. I was going to fight my way through a corn maze. I was going to take a drive up into the mountains to see the leaves turn from dusty green to gold and orange and garnet. I was going to go apple picking and make homemade caramel to dip them in. I was going to watch all of my favorite scary movies and read all my favorite ghost stories. But in spite of my hopes and plans, all I actually managed to do was eat two apple pies, a gallon of pumpkin spice ice cream, and a bag of Brach's Autmn Mix Candy Corn and Mellowcreme Pumpkins. I didn't even wash them down with apple cider. I have failed at Fall!
Well, maybe not failed, per se. I did manage to re-read some Shirley Jackson and watch a couple of Hammer vampire movies. I also started watching the new Netflix series adaptation of The Haunting of Hill House the other night and, so far, I've found it to be surprisingly well done.
Now, I have a small confession to make. The book I'm reviewing for this month's TBR Challenge, Wolfsong (Green Creek #1) by T.J. Klune, I actually read about a month ago. In my defense, I haven't read any new-to-me fiction for a few weeks now (only re-reads of old faves) because I've been focused on reading books on the craft of writing because – Yes – I'm finally (after all these years) writing again. And, oddly enough, in an indirect way, I have this book to thank for that. It started a kind of domino effect that led to my ability to overcome the writers block I've been battling for almost a decade and a half.
So, when it came time to pick a paranormal book to review for this month's TBR Challenge, it was an obvious choice. It was on my TBR list for two whole years. I have no idea how I resisted it all that time, especially with everyone I know singing its praises the entire time, but resist it I did until very recently. All I know is, I'm so glad I read it. It shifted something inside of me and gave me a new lease on my own creativity. It was also one of the most wonderful books I've read in a long time. For that matter, so was its sequel. I can't wait until the third installment comes out next year.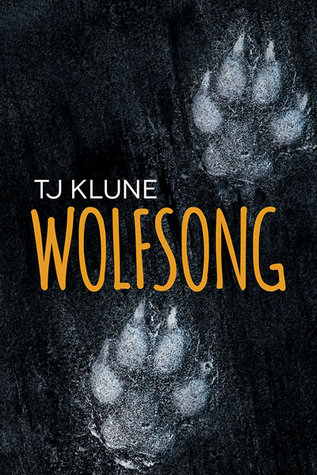 Wolfsong (Green River #1) by T.J. Klune
Synopsis:
Ox was twelve when his daddy taught him a very valuable lesson. He said that Ox wasn't worth anything and people would never understand him. Then he left.
Ox was sixteen when he met the boy on the road, the boy who talked and talked and talked. Ox found out later the boy hadn't spoken in almost two years before that day, and that the boy belonged to a family who had moved into the house at the end of the lane.
Ox was seventeen when he found out the boy's secret, and it painted the world around him in colors of red and orange and violet, of Alpha and Beta and Omega.
Ox was twenty-three when murder came to town and tore a hole in his head and heart. The boy chased after the monster with revenge in his bloodred eyes, leaving Ox behind to pick up the pieces.
It's been three years since that fateful day—and the boy is back. Except now he's a man, and Ox can no longer ignore the song that howls between them.
This is not your typical romance, in that it doesn't start out as a romance. When the main characters first meet, one of them is only ten years old and the other is sixteen. This story is a gradual, slow-building, friends-to-lovers romance that is about much more than just  romance. It's about home and family and community. It's about love and loss, tragedy and triumph, friendship and betrayal. It's about belonging and responsibility and obligations. This book was one hell of an emotional roller-coaster and it was a truly  phenomenal ride. Beautifully written, evocative and visceral, this is an epic soulmates love story for the ages. It's emotionally exhausting, but it's so worth the book hangover it will leave you with. By the time I was halfway through it, it had already gutted me three times. It rips your heart apart but then it pieces it all back together again.
This book, as well as its sequel, Ravensong (Green Creek #2), are permanently going on my all-time favorite reading list. I'm convinced Heartsong (Green River #3) will also find a place on that list once it's released next year.