Happy Jólabókaflóð (pronounced YO-la-bok-a-flothe) or "Yule Book Flood"! In Iceland, it's a Christmas Eve tradition to exchange books as gifts and then spend the rest of the night snuggled up with a book, reading and drinking cocoa and/or eating chocolate. Sounds like an excellent way to spend the holiday, to me. (You can read more about it here.)
So, in honor of holiday reading traditions, I decided to once again compile my annual list of favorite holiday stories, novellas, and books, both old and new.
This year, I've decided to add this fabulous book gifting/reading/consuming chocolate idea into my own long list of seasonal traditions. Every year we put up the tree the weekend after Thanksgiving, hang the wreaths on both doors, and suspend the mistletoe ball in the doorway between the living room and dining room. We listen to my December Moods Spotify playlist music off and on for the entire month. My playlist is over nine and a half hours long, an eclectic mix of seasonal music, with a little something for everyone. Seriously, it shifts gears more than a sports car traveling on twisty, mountain roads. (You can check it out here, if you're interested.)
We also watch a lot of Christmas movies in December: Love Actually, The Holiday, the 1938 version of A Christmas Carol, Holiday Inn, Christmas Vacation, A Christmas Story, This Christmas, and the animated How the Grinch Stole Christmas and A Charlie Brown Christmas, as well as plenty of Hallmark and Lifetime movies. My favorites of those are The Spirit of Christmas, Kristin's Christmas Past, and Love at the Christmas Table.
Some years I feel motivated enough to make homemade tamales from Hubby's grandma's recipe and some years I'm a lazy sloth. However, I almost always bake fruitcake with dried pineapple, blueberries, cranberries, cherries, pecans and walnuts, and drench it with rum and whisky, or else I make my mom's rum cake or some gingerbread. I also bake cookies and make candy for weeks leading up to Christmas. Honestly, we eat more butter and sugar in the month of December than we eat for the entire rest of the year.
And usually at least one point during the holiday season, I'll mix up a batch of mulled wine, hot spiced cider spiked with Apple Pie Moonshine, or some good, old-fashioned wassail and we get a bit sloshed. This usually happens right after I spend an entire day wrapping presents and boxing them up to ship to my sisters in Florida and Tennessee and I'm feeling both exhausted and nostalgic for Christmases Past when my parents, grandmother, and aunts and uncles were all still alive and my sisters still lived close to me.
For the past decade or so, every Christmas Eve my husband grills/smokes a prime rib roast and we have a quiet dinner, just the two of us. Afterwards we enjoy a few adult beverages while listening to Christmas music or watching Christmas movies. Then on Christmas morning, we get up early and open presents. Hubby, being as OCD as I am, gathers all the wrapping paper, boxes, bags, etc., that can't be salvaged to use again next year and carts them off, while I cook an elaborate breakfast casserole of some sort. Last year it was a steak and egg casserole with caramelized onions, mushrooms, hashbrowns and cheese. After breakfast is over, Christmas is pretty much done for us. There will be napping and snacking and TV watching off and on for the rest of the day, of course, but that's basically the extent of our holiday season. When we were younger, we used to get all dressed up and go out to celebrate New Year's Eve but nowadays we just stay home then, too, where it's warm and cozy in our comfy clothes and watch the ball drop on the TV.
Anyway, enough of my nostalgic rambling. It's time to move on to my recommendations list of holiday reads. Unfortunately, I ran out of time this weekend and didn't get a chance to read one of my most anticipated books of the season, Kip's Monster by Harper Fox, which was released December 21st on the Winter Solstice. But it's on my Kindle and is next on my list to read. Really looking forward to that.
I hope you all have a lovely, happy holiday and that you receive many, many good books for Jólabókaflóð!
My Favorite New Holiday Reads for 2018:
Mr. Winterbourne's Christmas by Joanna Chambers
Lysander Winterbourne and Adam Freeman have been living happily at Edgeley Park for the last eighteen months. By day Lysander is Adam's estate manager, by night, his lover, but neither man has spoken of their deeper feelings. Is this a happy-ever-after or just a convenient arrangement?
When the two men are invited to Winterbourne Abbey for a family Christmas, matters quickly come to a head. Snowed in at the Abbey with a house full of guests, they have to face up to shocking revelations, long-held secrets and a choice Lysander never expected to have to make…
RYAN ANDERSON has known something was wrong since he was a teenager. He's been tormented by a sense of emptiness and loss—but what did he lose? He has no idea. Then a mysterious man appears, calling himself Tomte, a Swedish word Ryan remembers hearing from his grandmother in his childhood.
It means "Christmas elf."
With the help of his older brother and his nine-year-old niece, Ryan begins a journey to discover what happened fifteen years ago, when he disappeared during a winter storm and didn't reappear until spring. Not only has he forgotten those months, he's forgotten the faithful dog who failed to come back with him.
As memories surface and impossible things happen all around him, Ryan senses Tomte, that beautiful man he's inexplicably drawn to, is the key to everything—his past, his future, and his happiness.
Love Around the Corner (New Milton #1.5) by Sally Malcolm
Real life enemies, online lovers. Two lonely men, destined for each other—if only they knew it.
Alfie Carter grew up in New Milton, caring for his sick father and keeping their auto repair shop on its feet. He's touchy about his poor education and doesn't take kindly to snide remarks from the town's prickly bookstore owner—no matter how cute he looks in his skinny jeans. Left to run the family business alone, Alfie spends his lonely evenings indulging his secret passion for classic fiction and chatting online with witty, romantic 'LLB' as they fall in love over literature.
Leo Novak's new life as owner of Bayside Books is floundering. And he could do without the town's gorgeous, moody mechanic holding a grudge against him after an unfortunate—and totally not his fault— encounter last Christmas. Still reeling from a bad breakup and struggling to make friends in New Milton, Leo seeks comfort in his blossoming online romance with thoughtful, bookish 'Camaro89'.
But as the holidays approach, 'LLB' and 'Camaro89' are planning to meet, and realities are about to collide…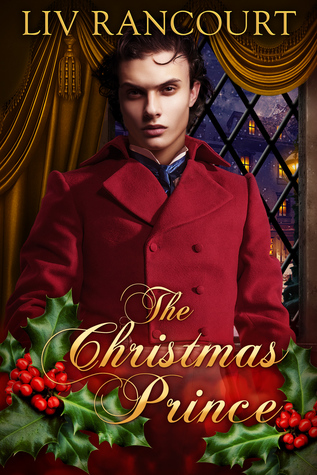 The Christmas Prince by Liv Rancourt
All Trevor wants for Christmas is a handsome man
and a reason to move out of his mother's home.
All Prince Edward wants is a moment of relief
from the responsibility of being the heir to the British crown.
If they can find a way to solve each other's problems,
this will be a very merry Christmas indeed!
Burning Down the House by Gregory L. Norris
Leo's quiet vacation in Vermont is cut short by news that his beloved grandmother's in the hospital because she tried to burn down her own house. Feeling low and depressed that she might be falling victim to dementia, Leo takes comfort in a man he meets in the hospital's Quiet Room. The encounter's supposed to be a one-night stand, one and done, no strings attached, but Leo's surprised when he wants more.
​
The problem is that Aaron comes with strings and complications—ones Leo isn't sure he wants to deal with on top of his own problems. Leo's going to have to reach deep if he wants more than superficial, but he's determined to try if the universe will just cooperate.
My Favorite Holiday Re-reads:

Bowl Full of Cherries (The Avona Tales #1) by Raine O'Tierney
Porker, Fatty, Tons-of-Fun: Crowley Fredericks has heard it all. He's dropped a lot of weight since his high school days, but he's still a big guy, and the painful words and bullying follow him. Rejected—again—because of his size, Crowley is starting to think that maybe love just isn't meant for huskier men.
Averell Lang and his twin are so different they might as well not even be related. So when Rell's brother brings his roommate home to snowy Susset for the holidays, Rell expects the worst—another uptight, pretentious hipster. What he discovers instead is Crowley. Nerdy, fascinating, attractive, Crowley. Rell never expected to look at a man this way, and what he sees in Crowley Fredericks is something he didn't even know he was looking for. If both men can overcome their hang-ups, they might unwrap more than presents this holiday season.

The Holly Groweth Green by Amy Rae Durreson
When wounded doctor Laurence Payne is stranded in the snowy English countryside on Christmas Eve, 1946, he is surprised to stumble upon Mistle Cottage and its mysterious inhabitant. Avery claims to be an Elizabethan wizard, and Laurence struggles to explain away the atmosphere of the cottage as mere coincidence and trickery. He spends a magical twelve days of Christmas celebrating with Avery, but then wakes to find his lover has vanished and the cottage has fallen to ruin overnight.
Laurence's investigations lead him to the story of an ancient fairy curse—Avery is doomed to spend only Christmas Eve to Twelfth Night in human form until he finds true love. Laurence sets out to give Avery the greatest gift of all—his heart and with it the chance to live for more than the fleeting winter weeks he's been sentenced to.

A Wealth of Unsaid Words by R. Cooper
Alex has always known his bipolar disorder made him too flawed for his boyhood hero, Everett. So when his feelings for Everett became overwhelming, he forced a separation that saddened them both but gave Alex the clarity he needed. Now a year has passed, and he and Everett are together again when Everett's noisy, imperfect family reunites for Christmas, pulling Alex into their chaotic warmth the way they always have. Can Everett convince Alex that, in spite of his fears, starting a relationship would make for the perfect holiday?
Every Christmas, child chorister Jonah Lennox used to meet Callum Noakes at Aylminster cathedral when Callum's mother came to sell roasted chestnuts at the market. After years of friendship, an argument separates them, apparently forever. Putting away the memories of his lost friend, Jonah left the cathedral and moved on with his life.
When Jonah returns to the cathedral after ten years away, the market in the cathedral brings back memories—and Callum, who has made a life for himself as a woodturner. Upon meeting again, attraction pulls them together, and the holiday may inspire their old friendship to mature into new romance.

The Winter Spirit by Indra Vaughn
Nathaniel O'Donnelly likes his life quiet, his guests happy, and his ghosts well-behaved.
Although a boyfriend wouldn't go amiss. Someone to share his beautiful B&B with, even if it is in the middle of nowhere and he's long past the wrong side of thirty. Problem is, Nathaniel's living with a ghost who thinks he's cupid, and whose arrows fly a little too straight.
Gabriel Wickfield had the unfortunate luck of dying before his time, and now he's stuck trying to make romance happen to earn his right to move along. Not that he's bored in the meantime—Nathaniel is just too easy to tease. And also a little bit scrumptious…
With the curse reaching its expiration date, Gabriel needs to make a final match this Christmas. Without it, nothing but darkness awaits.
Love can conquer all, but can it beat death?

Holly and Oak (Familiar Spirits #2) by R. Cooper
Once a year, the town of Ravenscroft celebrates the winter solstice by watching the Oak King symbolically slay the Holly King to ensure the death of winter. To most people, it's a pagan ritual that has lost all meaning in the modern world, harmless fun during the week of Christmas. To the coven who founded the town, it's a magic so important they entrusted it to the two strongest witches in generations.
Will Battle and Chester Sibley are opposites in every way, or so Ravenscroft residents insist. Quiet, polite Will is the town's beloved adopted son, popular and admired. Defiant, outspoken Chester is disliked and avoided despite being a direct descendant of the town's founders. It's no wonder Will is the embodiment of spring and life as the Oak King and Chester was given the cold, dark Season of Holly. No one in town seems to realize their nice, well-mannered Oak King has iron at his core and their fearsome Holly King only wants to make people happy. Perhaps that's also why not even the other witches suspect that Chester has been in love with Will for almost his entire life.
That's how Chester wants it. He might dream of Will, but he's learned to keep his dreams to himself. The trouble is Will. For all that he smiles and nods, Will has started quietly rebelling against both the town and the coven. With only days until the winter solstice, he issues Chester a challenge—to finally ask for what he wants. If Chester tells the truth, he risks losing Will and upsetting the ritual that has made the town prosperous. But there is more between them than magic, no matter how powerful or ancient, and Chester would do anything for Will, even, just maybe, coming in from the cold.

A Family for Christmas by Jay Northcote
Zac never had a family of his own, but Rudy has enough to share.
Shy, inexperienced Rudy has a crush on Zac from the moment his new colleague walks through the door. On an office night out before Christmas, Rudy finds the courage to make a move, and they form a tentative bond. When he discovers Zac will be alone at Christmas, he invites Zac to come home with him.
Zac prefers to keep people at arm's length. Yet when Rudy offers him a family Christmas it's impossible to resist. With no parents of his own, Zac is pleasantly surprised to be welcomed by Rudy's. The only drawback is that everyone assumes they're a couple. Unwilling to disappoint Rudy's mum and make Christmas awkward, they decide not to deny it.
It's not a chore for Zac to pose as Rudy's boyfriend, but the pretence makes him want things that scare him—things like a real relationship with Rudy. Zac's suffered enough rejection in his life already and is afraid to risk his heart. If he can get over his past rejection and let Rudy inside his armour, he might get more for Christmas than he ever imagined.

Merry Christmas, Mr. Miggles by Eli Easton
Toby Kincaid loves being the junior librarian in his hometown of Sandy Lake, Ohio. He spends his days surrounded by books and chatting with the library patrons. He especially adores the head librarian, Mr. Miggles, who is kind, witty, knowlegable about everything, and hopelessly addicted to Christmas. Sean Miggles is also pretty cute—especially for an older guy who wears ties and suit pants every day.
But Sean keeps himself at a distance, and there's a sadness about him that Toby can't figure out. When Sean is accused of a crime he didn't commit, he gives up without a fight. Toby realizes that he alone can save the library—and their head librarian.
Toby will need to uncover the darkness in Sean's past and prove to him that he deserves a second chance at life and at love too. And while Christmas miracles are being handed out, maybe Toby will get his own dearest wish—to love and be loved by Mr. Miggles.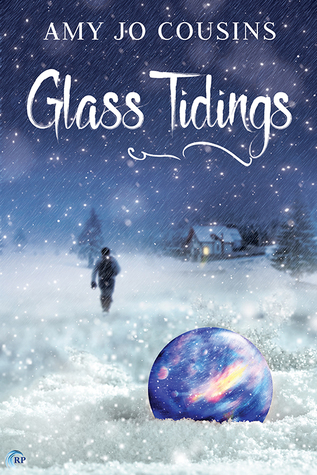 Glass Tidings by Amy Jo Cousins
Eddie Rodrigues doesn't stay in one place long enough to get attached. The only time he broke that rule, things went south fast. Now he's on the road again, with barely enough cash in his pocket to hop a bus south after his (sort-of-stolen) car breaks down in the middle of nowhere, Midwest, USA.
He's fine. He'll manage. Until he watches that girl get hit by a car and left to die.
Local shop owner Grayson Croft isn't in the habit of doing people any favors. But even a recluse can't avoid everyone in a town as small as Clear Lake. And when the cop who played Juliet to your Romeo in the high school play asks you to put up her key witness for the night, you say yes.
Now Gray's got a grouchy glass artist stomping around his big, empty house, and it turns out that he . . . maybe . . . kind of . . . likes the company.
But Eddie Rodrigues never sticks around.
Unless a Christmas shop owner who hates the season can show an orphan what it means to have family for the holidays.

Winter Oranges by Marie Sexton
Jason Walker is a child star turned teen heartthrob turned reluctant B-movie regular who's sick of his failing career. So he gives up Hollywood for northern Idaho, far away from the press, the drama of LA, and the best friend he's secretly been in love with for years.
There's only one problem with his new life: a strange young man only he can see is haunting his guesthouse. Except Benjamin Ward isn't a ghost. He's a man caught out of time, trapped since the Civil War in a magical prison where he can only watch the lives of those around him. He's also sweet, funny, and cute as hell, with an affinity for cheesy '80s TV shows. And he's thrilled to finally have someone to talk to.
But Jason quickly discovers that spending all his time with a man nobody else can see or hear isn't without its problems—especially when the tabloids find him again and make him front-page news. The local sheriff thinks he's on drugs, and his best friend thinks he's crazy. But Jason knows he hasn't lost his mind. Too bad he can't say the same thing about his heart.

Yuletide Truce by Sandra Schwab
London, 1845
It's December, Alan "Aigee" Garmond's favorite time of the year, when the window display of the small bookshop where he works fills up with crimson Christmas books and sprays of holly. Everything could be perfect — if it weren't for handsome Christopher Foreman, the brilliant writer for the fashionable magazine About Town, who has taken an inexplicable and public dislike to Aigee's book reviews.
But why would a man such as Foreman choose to target reviews published in a small bookshop's magazine? Aigee is determined to find out. And not, he tells himself, just because he finds Foreman so intriguing.
Aigee's quest leads him from smoke-filled ale-houses into the dark, dingy alleys of one of London's most notorious rookeries. And then, finally, to Foreman. Will Aigee be able to wrangle a Yuletide truce from his nemesis?

All I Want For Christmas by Izzy Van Swelm
Stuart, still grieving for his husband Oliver, is spending Christmas Eve evening in a village church watching his granddaughter in a nativity play. The location, play and carols bring back memories and so much more.
More Great Seasonal Reads for Ringing in the New Year:
Auld Lang Syne (Glasgow Lads #3.25) by Avery Cockburn
Written as a free and exclusive holiday short for the 2018 Rainbow Advent Calendar: https://averycockburn.com/auld-lang-s…
In this prequel to Playing in the Dark, wedding planner Ben and secret agent Evan meet for the first time on New Year's Eve, at the wedding of Evan's ex-boyfriend. Can Ben melt this jaded spy's frozen heart and make him believe in love again?
"Auld Lang Syne" contains kilts, castles, and not-so-random acts of kindness.
Every New Year's Eve since 1946, Nate Meyer has ventured alone to Times Square to listen for the ghostly church bells he and his long-lost wartime lover vowed to hear together. This year, however, his grandson Blaine is pushing Nate through the Manhattan streets, revealing his secrets to his silent, stroke-stricken grandfather.
When Blaine introduces his boyfriend to his beloved grandfather, he has no idea that Nate holds a similar secret. As they endure the chilly death of the old year, Nate is drawn back in memory to a much earlier time . . . and to Walter.
Long before, in a peace carefully crafted in the heart of wartime tumult, Nate and Walter forged a loving home in the midst of violence and chaos. But nothing in war is permanent, and now all Nate has is memories of a man his family never knew existed. And a hope that he'll finally hear the church bells that will unite everybody—including the lovers who hid the best and most sacred parts of their hearts.